Power Collecting:
Automation for Effective Asset Management
Book Overview
<![if !vml]>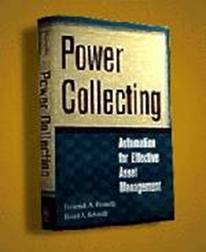 <![endif]>Power Collecting helps you step back from the daily demands of credit and collections in order to analyze your collection system as a whole. Authors David A. Schmidt and Frederick A. Piumelli demonstrate how automating the collection process can create seamless procedures that free staff members to focus on the crucial tasks that increase corporate cash-flow.

They show you how to automate important but routine tasks such as prioritizing collection calls, aggregating information for easy retrieval, scheduling follow-up activities, sending collection correspondence, tracking down proofs of delivery, faxing invoices, contacting other departments within your company to answer customer claims, updating customer contact logs and more.

Illustrating each example and process with detailed case studies, the authors provide step-by-step procedures for automating the collections process, maximizing efficiency, and producing dramatic increases in corporate cash-flow. Numerous checklists help you track various functions and procedures as you reengineer your collection effort.
You've probably already thought of automation as a possible solution to your staffing and collection problems. This book helps you get the job done right.
<![if !vml]>

<![endif]>