Note:  This article was first published in the November/December 2002 issue of Recovery Advisor Magazine (page 12, Volume 2, No.3) and is reprinted here with the permission of the author.  Additional information about this publication, now known as Collection Advisor Magazine, can be found at www.collectionadvisor.com.
<![if !supportEmptyParas]> <![endif]>
Time is Money
<![if !supportEmptyParas]> <![endif]>
By David Schmidt
<![if !supportEmptyParas]> <![endif]>
This may sound simplistic, but the surest way to improve collections is to spend more time collecting.  Let me explain.  In terms of credit and collections, the typical B2B vendor has computerized little else beyond accounts receivable, typically providing collectors with a variety of look-up tools, but little in the way of workflow utilities<![if !vml]>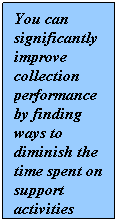 <![endif]>.  When you study how collectors working under these circumstances spend their time, only about 25 percent of their day is actually spent contacting delinquent accounts – and too often, less than that.
<![if !supportEmptyParas]> <![endif]>
The bulk of their time is spent gathering information to approve orders, answer inquiries, resolve discrepancies, prepare reports and perform other tasks.  In fact, most will spend more time deciding whom to call next and reviewing the account status preparatory to making a collection call, than they will spend actually making calls.
<![if !supportEmptyParas]> <![endif]>
In this type of situation, anything done to increase the amount of time a collector spends contacting past-due customers will likely improve collection performance.  This is why collection software with its workflow and communication tools is so powerful.  While this software allows you to contact more accounts in a set period of time, most productivity gains result from spending less time gathering information and performing clerical activities.  The time devoted to contacting customers can be at least doubled and hopefully tripled, resulting in a dramatic improvement in collection performance.
<![if !supportEmptyParas]> <![endif]>
Even if you don't hive the opportunity to install and use a collection software package, you can significantly improve collection performance by finding ways to diminish the time spent on support activities.  Remove yourself from the prioritization, preparation, follow-up and analysis stages of the collection process - and then rededicate to the contact phase.  It will boost productivity.
<![if !supportEmptyParas]> <![endif]>
Consolidate Information
A large part of the problem arises because all the information needed to make a call or send a note is seldom in one place. When notes are written on an aged A/R trial balance, transaction details on the computer and contact information elsewhere, it takes a considerable amount of time to gather all the background data needed to place a collection call.  Time is also wasted transferring notes to a new aging report or manually checking off payments.
<![if !supportEmptyParas]> <![endif]>
If your A/R software doesn't have useable notepad or calendar utility, off-the-shelf contact management software like Microsoft Outlook, GoldMine or ACT!, can be an effective alternative.  Consolidating all necessary contact and balance information on one computer screen with hot keys to any additional details a collector might occasionally need to review helps as well.  Online access to document images also saves lots of time otherwise spent finding and copying paper files.  The fewer keystrokes needed to get to the data, the better.
<![if !supportEmptyParas]> <![endif]>
Add Communication Tools
Providing your collectors with communication tools also will free up significant amounts of time.  Being able to fax and email invoices, and other documents from the collector' s PC desktop significantly boosts collection efficiency.  These capabilities are easily added to any PC and will help collectors maintain adequate coverage of their smaller accounts so that there is still plenty of time left to call all the larger past dues. With Windows-based software, anybody can cut and paste account information into pre-designed templates for easy dunning.  Advanced users should be able to create merge files to boost productivity even further.
<![if !supportEmptyParas]> <![endif]>
Create Organizational Efficiencies
While there are many system improvements that can free up more time for collections, don't overlook something as obvious as departmental organization.  A small department with four collectors supported by a clerk can be more productive than five collectors that have to do everything for themselves.  Larger credit departments should look at using specialists or otherwise reorganizing how work is assigned before adding staff, including large account collection reps, deduction specialists, soft collection reps, closers and others.  Workers who can concentrate on one type of activity for a block of time become more productive.  Providing collectors with blocks of time free from interruptions will further increase both the quantity and quality of their collection efforts.
<![if !supportEmptyParas]> <![endif]>
Whatever you do, remember that roughly 80 percent of your sales come from only 20 percent of your customers. Your ability to focus sufficient resources on these critical accounts, while quickly and efficiently handling all the rest of your customers, is the key to superior credit department performance. It just takes making good use of your time.
<![if !supportEmptyParas]> <![endif]>
David Schmidt is founder and principal of A2 Resotirces in Yardley, Penn., and is co-author of "Power Collecting." Contact him at dave.schmidt@a2resources.com.
(Home) (Power Collecting) (Resources) (Feedback)
<![if !supportEmptyParas]> <![endif]>
<![if !supportEmptyParas]> <![endif]>